Commercial Roofing in West Chester PA
Ensuring that commercial roofs in the West Chester function properly is essential to maintaining the productivity of a company's facilities. Area business owners need a roofing contractor that can be relied on in a wide variety of situations to install, repair, and maintain all facility roofs. It's also important for business owners to find cost-effective solutions for their roofing repair needs.
Commercial Roof Repair
Commercial roof damage is unfortunately an inevitable problem that most business owners will eventually be faced with. No roof is exempt from damage, however when damage does occur, business owners in West Chester can rely on MLG Exteriors for all their roofing needs.
New Roof Installations and Replacements
As a company expands, it will often need to have new facilities constructed to keep up with the growth. As your commercial roofing contractors in West Chester MLG Exteriors can provide invaluable advice and services for growing companies.
There are a lot of important decisions that go into a new roof installation for a business. A roof needs to be designed and installed in a way that will work efficiently to protect the structure underneath.
The material for a new roof or roof replacement is also an important decision. We can work with you to determine whether it's best to build over the original roof or remove it.
Business owners in West Chester need to work with a commercial roofing company that is experienced and can provide the right advice when it comes to the serious decisions that your roof can force you to make.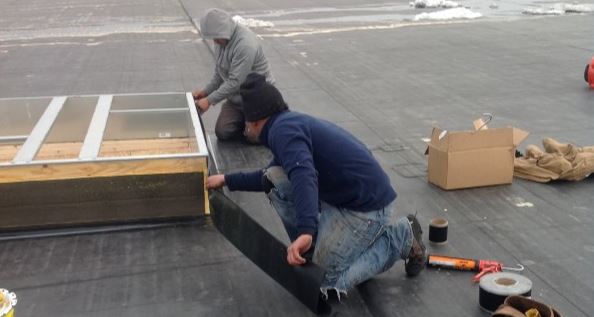 Keeping up on Routine Maintenance
Like any important piece of equipment, roofs need to be property maintained over time to prevent problems. The exact maintenance needs of a roof will depend largely on what material that roof is made of. However, some typical roof maintenance needs include replacing rusted or missing fasteners, clearing debris off roof surface, replacing missing shingles, and trimming branches down from up above so that they don't fall on a roof and cause impact damage.
Business owners need to work with their commercial roofing service provider so that they can devise a good maintenance regime. Any good maintenance regime will involve periodic inspections. At inspections, a roof can judge the overall condition of a commercial roof and recommend any work that's needed.
It's always best to prevent roof damage through proper maintenance than to deal with damage after it comes up. Maintaining a roof well can reduce business expenses because it will reduce the occurrence of leaks and minimize repair needs over time.
Roofing Contractor You Can Trust in West Chester
When it comes to anything relating to the roof over your business's head, look no further than the professionals at MLG Exteriors. We can provide you the expertise required to solve your roofing problems, whether it's a minor repair or the installation of a new roof, MLG Exteriors is the choice for businesses in West Chester. Contact us today to discuss your roofing needs!